CT Receives Prestigious Honor for Second Straight Year
San Diego Business Journal List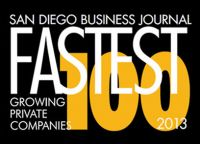 For the second year in a row, Curriculum Technology has made the San Diego Business Journal's 100 Fastest Growing Private Companies List. It is a great honor to make the list considering the thousands of thriving businesses located within the region.
The CT staff is ecstatic about receiving such an honor and is thankful to all of its clientele and contractors who have helped the company get to this point.
The recognition received from being on this list is a testament to the hard work and dedication given by each member of the CT family. The award will only further the company's drive and determination as it looks to advance its position and capabilities within the Education Services Industry.
CT would like to thank the San Diego Business Journal for this honor as well as congratulate the other 99 businesses who made the list.