The People Behind the Product
James Stanger, CT Information Technology Subject Matter Expert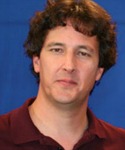 Considered an authority in the information technology field, James Stanger has been developing IT certifications and curricula for almost two decades. He is an award-winning author, blogger, and public speaker.
Over the span of his career, he has written and contributed to dozens of IT books and courses. James has also designed certifications and curricula for Fortune 500 companies such as IBM and Symantec. He is a coveted speaker and educator, delivering in-person and on-line training to a variety of audiences worldwide.
James currently serves as President and Chief Certification Architect at Certification Partners LLC, and is an active instructional design consultant. He has been Curriculum Technology's go to IT subject matter expert for over five years.