The People Behind the Product
Shel Silver, CT Criminal Justice Subject Matter Expert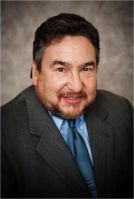 Shel Silver is the Chair of the Social and Criminal Justice program in the College of Liberal Arts at Ashford University, where he teaches courses for the Social and Criminal Justice, Homeland Security, and Emergency Management programs. He has authored two of CT's Criminal Justice books including CJ in the USA and Courtroom Activities for CJ and Paralegal.
Professor Silver has had a varied career as an Assistant Michigan Attorney General, the Chair of Legal Administration at the University of Detroit-Mercy, an environmental and criminal defense litigator in private practice, a judge, the Environmental Enforcement Coordinator for the State of Arizona, the Deputy Director of the Office of Administrative Hearings for the state of Arizona, the Justice and Legal Studies Chair at Parks College in Aurora, Colorado, an independent security and management consultant, and the Chair of the School of Criminal Justice at ITT Technical Institute in Westminster, Colorado.
He has proved to be a valued source of information for Curriculum Technology and is widely considered as an authority in the fields of Criminal Justice and Homeland Security.