eLearning Development that Works
Why We Succeed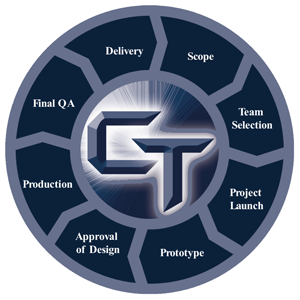 CT's internal model for maintaining strict quality assurance is applied during the relationship with each and every client.
Scoping
QA is integrated right from the start. Accurate scoping ensures the right team members, resources, and delivery schedules are utilized.
Team Selection
We hand select, from a pool of 200 contractors, an internal team that best fits the needs and requirements of the project.
Project Launch
At project launch, on-boarding procedures take place while weekly calls, communication systems, and development timelines are established.
Protoyping
The development of a prototype guarantees that outcomes are clear and concise. Team members, timelines, and resources are adjusted as needed.
Approval of Design
Communication and collaboration is key to project success. Feedback and approval are integral to clarifying outcomes and ensuring client satisfaction.
Production
A carefully monitored production lifecycle captures every detail of the development process. Well trained teams, clear milestones, and daily QA promote efficiency and precision.
Final QA
Prior to delivery, project deliverables are reviewed by executive team members, senior project managers, and lead instructional designers.
Delivery
QA is integrated again at project completion. Executive team members and senior project managers walk clients step by step through a final presentation upon project delivery.
---
I am a believer in their e-product, support and cutting edge content development assistance.
Glendale Community College